---
MyWxThing LT - Single Station Weather Monitor
What is MyWxThing LT? MyWxThing LT stands for My Weather Thing Lite.
What does MyWxThing do? This program is a single station weather monitor program. There are over 6,000 weather reporting stations in the world, and this program allows you to graphically view the current weather at any of these locations. Setup is as easy as clicking on a map, and selecting the station you would like to view.
MyWxThing LT is freeware, and is free of adware, spyware, trojans, and related "junk" that often accompanies free software. What you are getting is a program that does exactly what it says: Provides weather information for a weather station.
MyWxThing LT runs in the Windows System tray showing the current temperature.
At this point, screen shots of MyWxThing LT would explain a great deal: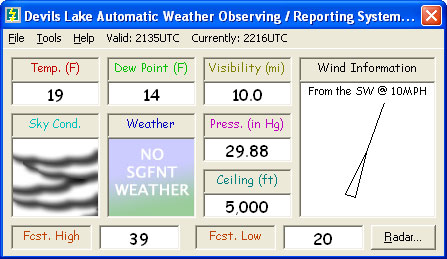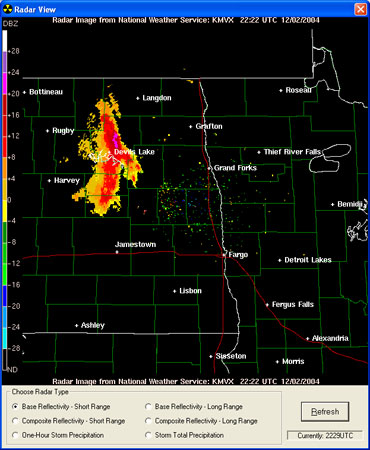 Here is a list of features of MyWxThing LT:
Checks / updates the weather every four minutes

Displays weather parameters in the English or Metric system

Developed using the same stable, powerful weather decoding engine used in Wx Plotter

It's free!

NO adware, spyware or other similar software

Current weather parameters shown: temperature, dew point, visibility, pressure, wind direction and speed, sky condition, weather, and ceiling height

Shows the forecast high and low temperatures for stations located in the United States

NEXRAD images for United State locations, to include short and long range base and composite reflectivities; storm total and one-hour total precipitation.

Runs in the Windows System tray, for unattended operation
Need more info, check out the help file for MyWxThing LT by clicking here. If you would like, a link is provided below to other software available on this site.
[ Download MyWxThing LT ] [ Check Out Other Software ]