---
Wx Plotter
[Download Now] [Detailed Screen Shots] [Buy Wx Plotter]
Wx Plotter is a full-featured weather software package, plotting elements such as current weather, temperature, dew point, ceiling, wind barbs, and relative humidity. Please read on for more information regarding this weather software package.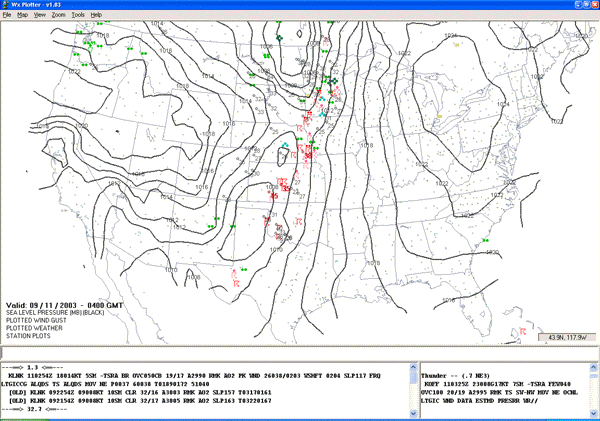 Wx Plotter was initially designed to be used by meteorologist, but the easy-to-use interface has made it possible to be used by practically anyone. The weather observations are received by Wx Plotter in METAR format. At the users discretion, the may either view the observations in METAR or decoded (plain language) form. For more information on METAR and other related information please click here.
Features of Wx Plotter - Weather Software

View weather as it is going on, anywhere in the world.

Plot temperatures, dew points, relative humidity, ceilings, wind barbs.

METAR or decoded weather observations for nearby stations where clicked in the map.

Easy to use graphical interface.

Zoom editor allows editing of shortcuts to anywhere in the world.

Watch for weather near user-programmed points of interest.

Graphically plot stored weather for later review/verification.

Recall past observations for trend analysis.

Comprehensive online help, covering every aspect of Wx Plotter.

Contour weather data such as temperature, pressure, dew point, moisture convergence, etc...

Save the map graphic to a JPEG file for later viewing.

Scripting ability allows for customizable control of Wx Plotter.

More Features

Contouring: Temperature, pressure, wind speeds, dew points, relative humidity, moisture convergence, wind chill, 3/6/12 hour pressure changes, cloud ceilings, and more...

Displayed Weather: Tornados, hail, squalls, thunderstorms, rain, snow, sleet, drizzle, freezing precipitation, dust, fog, and more...

Some Uses: Met watch, weather forecasting, verification of weather events, hobby, storm chasing, education, and much, much more is possible with this weather software package!



So what are you waiting for? Download the time-limited demo today and try it out, risk free!
---