---
AnimWx - Weather Model Viewer
What is AnimWx? The program name is short for Animated Weather (AnimWx). The program downloads weather model graphics from the National Weather Service (NWS) and animates them. With this viewer you can step through each frame one by one, or animate in the forward direction, reverse direction, or in a rocking fashion. You also can print the graphics to a printer.
What models does AnimWx show? The best! ETA, NGM (Nested Grid Model), and GFS (Global Forecast System) are the currently included models.
What parameters are shown? Many! You can select from the standard 200MB, 250MB, 300MB, 500MB, 700MB, 850MB, 10M, surface, 6hr precipitation, 24hr precipitation, and more!
[ Download AnimWx ] [ Register AnimWx ]
Below is a sample screen shot of AnimWx; showing the 250MB level forecast for June 30th, 2004 at 1800Z (126hr forecast):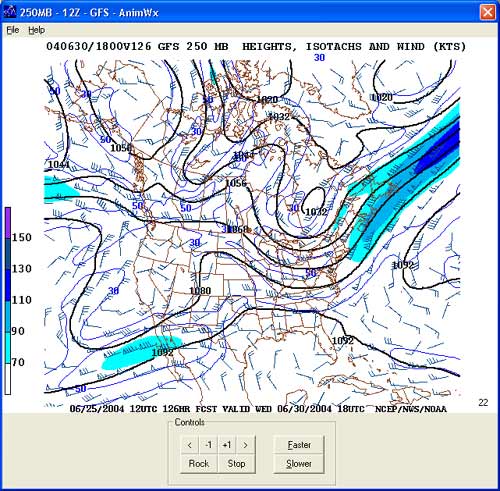 You will need to register AnimWx to fully use it. The unregistered version only shows the first 4 frames of the animation, reminds you to register, and places an Unregistered Version stamp on any printouts. No risk to you, why not give it a try... Download AnimWx!
[ Download AnimWx ] [ Register AnimWx ]