AnimWx Help File (v1.0)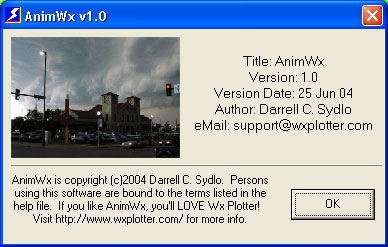 ---
Table of Contents
[ Introduction ] - [ Quick Start ] - [ Controls and Menus ] - [ Registration ] - [ Weather Models ] - [ F.A.Q. ] - [ Terms of Use ] - [ Wx Plotter Site ]
---
Introduction
AnimWx is a small, yet very versatile weather model viewer. The models available for viewing are NGM, ETA, and GFS. One of the more important tools any weather forecaster needs is an assortment of data to look at. AnimWx provides this by allowing the weather forecaster to pick and choose, and have multiple model views concurrently open. This is typically not available to the home forecaster because all of the tools for weather model viewing are located on UNIX and LINUX based machines. AnimWx in a Windows program, and thus is within the reach of practically everybody! The next section goes through a quick start for AnimWx; it does assume that you have some familiarity with models (i.e. initialization times, parameters, etc...). If not, please move on to the "Weather Models" section, as this will explain some of the details of weather models.
---
Quick Start
Very Simple!
Run AnimWx by clicking on the icon under the Windows Start Menu. When AnimWx first starts, a tips dialog shows up. You may read through these as you wish. If you no longer want tips at startup, uncheck the Show Tip on Startup checkbox.
To view a model go to the File menu and select Open. Doing this will show this screen: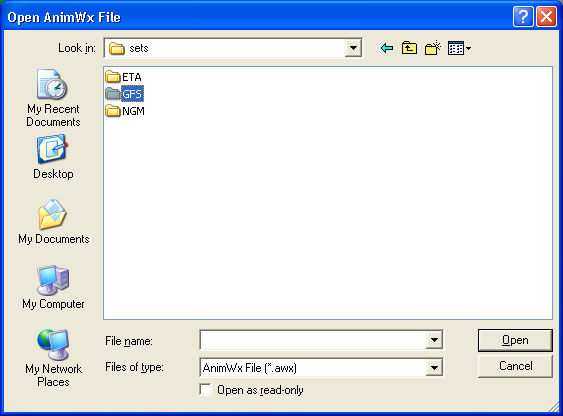 This will place you under the sets directory. From here double click on the folder of the weather model you would like to run. For this example, the GFS model is being selected. Doing so will give you a screen as such: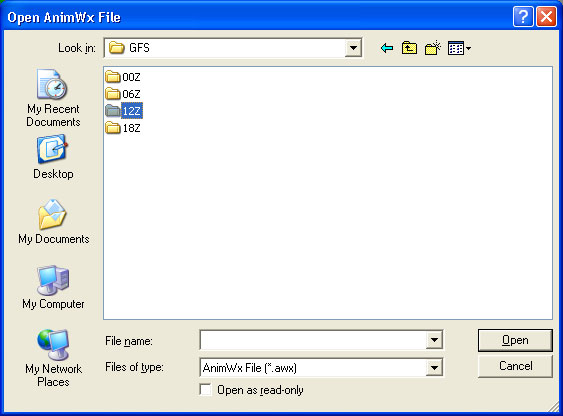 Now double click the folder showing the weather model run time you would like to show. For this example, a model run time of 12Z is being selected. Doing so will give you this screen: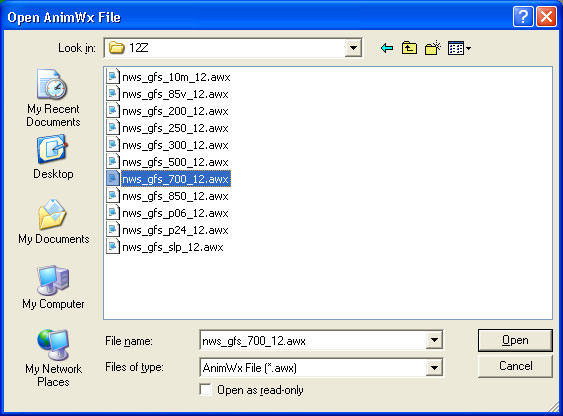 Now this is where the magic happens! Opening any of these files will run that particular model, initialized at the time you selected. The main parameter of the model is shown between the model name and the time (e.g. above the 700MB level of the 12Z GFS model is selected). Upon opening the selected file you will see: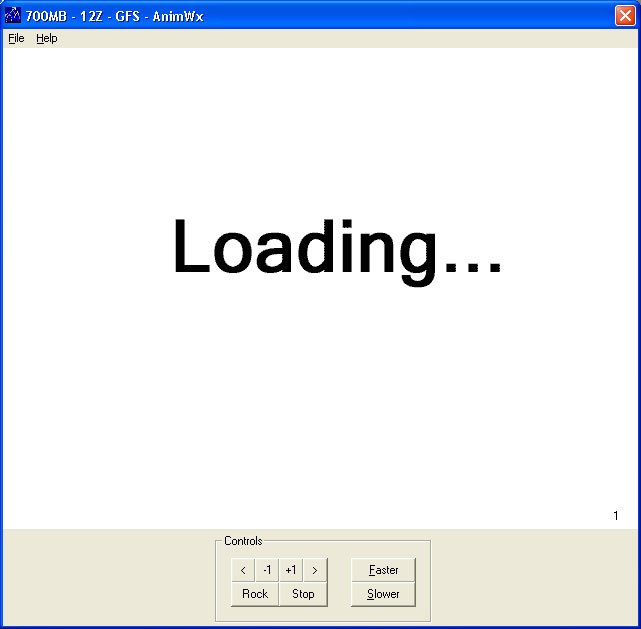 As AnimWx is downloading the graphics from the Internet, you will see a Loading... prompt with the frame number displayed in the lower right corner. As each graphic is successfully downloaded, it will be shown in the sequence. Soon you will begin to see: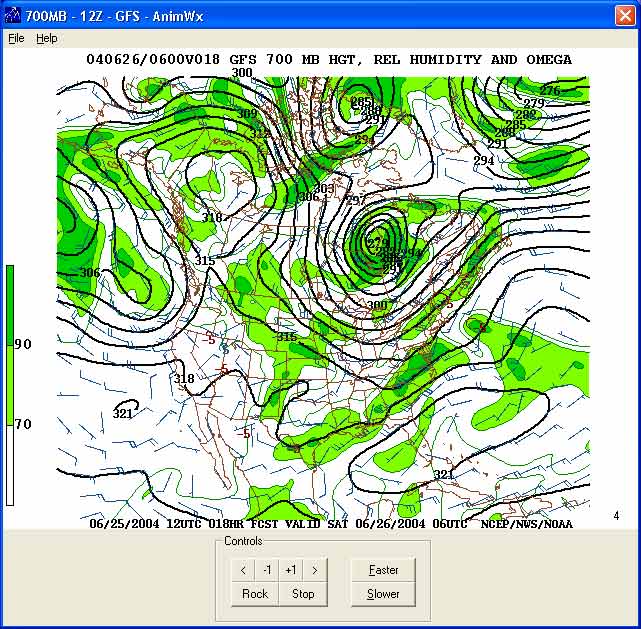 Read on to learn more!
---
Controls and Menus
The controls on the bottom of the form have the following functions: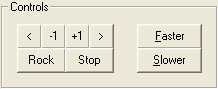 | | |
| --- | --- |
| Button Name | Function |
| > | Animates the model in the normal (forward) direction |
| < | Animates the model in the reverse (backward) direction |
| +1 | Steps the model forward one frame |
| -1 | Steps the model backward one frame |
| Rock | Animates the model forward, then backward |
| Stop | Stops the animations of the model |
| Faster | Speeds up the animation |
| Slower | Slows down the animation |
The following menu choices are available under the File and Help menus: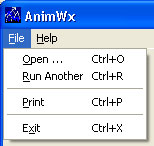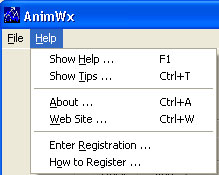 Menu Choice
Function

The File Menu
Open
Open a model for animation
Run Another
Starts up another AnimWx program
Print
Prints the current weather model graphic to the default printer
Exit
Closes the AnimWx program

The Help Menu
Show Help
Shows this help file
Show Tips
Shows quick tips
About
Displays information about the AnimWx program
Web Site
Goes to the AnimWx web site
Enter Registration
Shows a dialog to enter your registration
How to Register
Shows information on how to register AnimWx
---
Registration
AnimWx is not free. Please support the development of this program and other related programs. You are allowed to use the Restricted version of AnimWx for as long as you wish, but understand that you are only getting the first four frames of the weather graphics and have to put up with that annoying popup asking you if you would like to register.
AnimWx is not expensive and can be purchased through Credit Card, Check, or Money Order. Upon receiving payment a numeral key will be sent to you and all that you need to do is go to the Help menu and select Enter Registration. Enter the key into the dialog and AnimWx is unlocked permanently for your use.
For pricing information go to:
---
Understanding Weather Models
Simply put, weather models aide the weather forecaster in predicting what the weather will do. Weather models are not the tell all of weather forecasting, though. They simply are an additional tool to be used. Experience, a set of good eyes, and a good gut feeling are what successful forecasters rely on heavily. The discussion of weather models is too advanced for this help file, but here is a great sites that will get you started:
Understanding Weather Forecasting - From USA Today
If you find another great site and would like to see it added please eMail us!
---
F.A.Q.
Is there an update?
Any updates will be listed in the Software section of the Wx Plotter web site. Go there now, click here!
What restrictions are placed on the unregistered version of AnimWx?
The unregistered version only displays the first four frames of the model run. Some models, such as the GFS, have up to 30 frames, over 5 days. Also, you have to be reminded quite often of the fact that you are using an unregistered version of AnimWx.
How much does it cost to register AnimWx?
Pricing for AnimWx is not listed in the help file due to changes which may decrease or increase the price of AnimWx. For the current price go to the Software section of the Wx Plotter web site. Go there now, click here!
I have a question and it is not answered here, how do I get help?
Please eMail us at: support@nerdtests.com
---
Terms of Use
AnimWx License
AnimWx Copyright (c)2004 by Darrell C. Sydlo
All Rights Reserved
-----------------------------------------------
Terms and Definitions
"You" refers to the user, installer, copier, distributor, or transmitter of AnimWx
" Developer" refers to the person Darrell Curtis Sydlo.
" License" refers to this agreement between You and the Developer.
-----------------------------------------------
Your Agreement to this License
You should carefully read the following terms and conditions before using, installing, copying, distributing, or transmitting AnimWx. By using, installing, copying, distributing, or transmitting AnimWx, you agree to all of the terms of this License. Please read the License terms below. If you do not agree to all of the terms of this License, then do not use, install, copy, distribute, or transmit AnimWx.
-----------------------------------------------
Scope of License
This License does not apply to the graphics or the hypertext links associated with AnimWx. These are of public domain and may be used in any fashion as allowed by their respective owners.
AnimWx is not free. Subject to the terms below, you are hereby licensed by the Developer to use one copy of the unregistered AnimWx, on one (1) computer or workstation, for evaluation purposes without charge for an indefinite period. If You want the registered version of AnimWx, a license fee as listed on AnimWx web site is required. Payments must be in U.S. dollars drawn on a U.S. bank, and should be sent to Wx Plotter, ATTN: Darrell Sydlo, P.O. Box 355, Bismarck ND 58502, USA. Use of a reversed engineered, "cracked", "hacked", "modified", and the like is a breach of this License and a violation of U.S. and international copyright laws.
Subject to all of the terms of this License, you may, without making any payment to the Developer:
(a)give exact copies of the unregistered version of AnimWx personally to anyone;
(b)distribute exact copies of the unregistered version of AnimWx, if done exclusively through electronic channels;
(c)and make as many exact copies of the unregistered version of AnimWx as You wish, for purposes of distribution as described in (a) and (b) above.
You are specifically prohibited from charging, or requesting donations, for any copies, however made, and from distributing such copies with other products of any kind, commercial or otherwise, without prior written permission from the Developer. The Developer reserves the right to revoke the above distribution rights at any time, for any or no reason.
All rights of any kind in AnimWx which are not expressly granted in this License are entirely and exclusively reserved to and by the Developer. AnimWx is protected by the United States copyright laws and other applicable laws and treaties. You may not rent, lease, sublicense, modify, translate, reverse engineer, decompile, disassemble, or create derivative works based on, AnimWx (AnimWx), nor permit anyone else to do so. You may not make access to AnimWx available to others in connection with a service bureau, application service provider, or similar business, nor permit anyone else to do so.
-----------------------------------------------
Warranty Disclaimers and Liability Limitations
AnimWx, and any and all accompanying AnimWx, files, data and materials, are distributed and provided "AS IS" and with no warranties of any kind, whether express or implied, including, without limitation, any warranty of merchantability or fitness for a particular purpose. The Developer does not warrant, guarantee, or make any representations regarding the use of, or the results of the use of, AnimWx. The Developer does not warrant that the operation of AnimWx will be uninterrupted or error-free. You acknowledge that good data processing procedure dictates that any program, including AnimWx, must be thoroughly tested in non-critical operations before there is any reliance on it, and you hereby assume the entire risk of all use of the copies of AnimWx covered by this License. This disclaimer of warranty constitutes an essential part of this License.
Except to the extent expressly prohibited by applicable statutes, The Developer shall not be liable for any damage or financial loss arising out of the use of, or inability to use, AnimWx. Any liability of The Developer will be limited exclusively to refund of the license fee paid to The Developer. Except to the extent expressly prohibited by applicable statutes, in no event shall The Developer, or its principals, shareholders, officers, employees, affiliates, contractors, subsidiaries, or parent organizations, be liable for any indirect, incidental, consequential, special, or punitive damages whatsoever relating to the use of AnimWx, or to your relationship with The Developer, (including, without limitation, loss or disclosure of data or information, loss of profit, revenue, business opportunity or business advantage, or business interruption), whether based upon a claim or action of contract, warranty, negligence, strict liability, contribution, indemnity, or any other legal theory or cause of action, even if advised of the possibility of such damages.
In addition, in no event does The Developer authorize you or anyone else to use AnimWx in applications or systems where AnimWx's failure to perform can reasonably be expected to result in a significant physical injury, or in loss of property, or in loss of life. Any such use is entirely at your own risk, and you agree to hold The Developer harmless from any and all claims or losses relating to such unauthorized use.
-----------------------------------------------
Restricted Rights
AnimWx is provided with "Restricted Rights". Use, modification, duplication, release, performance, display, or disclosure by the U.S. Government or government contractors is subject to the restrictions set forth in subparagraph (c)(1) and (2) of the Commercial Computer Software Restricted Rights clauses at 48 CFR 52.227-19, and the provisions relating to Rights in Commercial Computer Software or Commercial Computer Software Documentation at 48 CFR 227.7202-3.
-----------------------------------------------
Availability
AnimWx relies on independent sources for data (i.e. graphics). This data is not guaranteed to be available indefinitely, and my at any time cease to become available. The Developer holds no responsibility to provide this data and make no guarantee of the data availability in the past, present, or future. If data does become unavailable, you make request that the developer provides an update to AnimWx, though the Developer does not have to.
-----------------------------------------------
General
This License is the complete statement of the agreement between the parties on the subject matter, and merges and supersedes all other or prior understandings, purchase orders, agreements, and arrangements. This License shall be governed by the laws of the State of North Dakota. Exclusive jurisdiction and venue for all matters relating to this License shall be in courts and fora located in the State of North Dakota, and you consent to such jurisdiction and venue. There are no third-party beneficiaries of any promises, obligations, or representations made by The Developer herein. Any waiver by The Developer of any violation of this License by you shall not constitute, nor contribute to, a waiver by The Developer of any other or future violation by you of the same provision, or any other provision, of this License. If any part of this License or the application thereof to any person or circumstance is for any reason held invalid or unenforceable, it shall be deemed severable, and the validity of the remainder of this License, or the applications of such provision to other persons or circumstances, shall not be affected thereby.
-----------------------------------------------
---
Copyright ©2004 Darrell C. Sydlo